Pumping and Mixing Knot (PMK)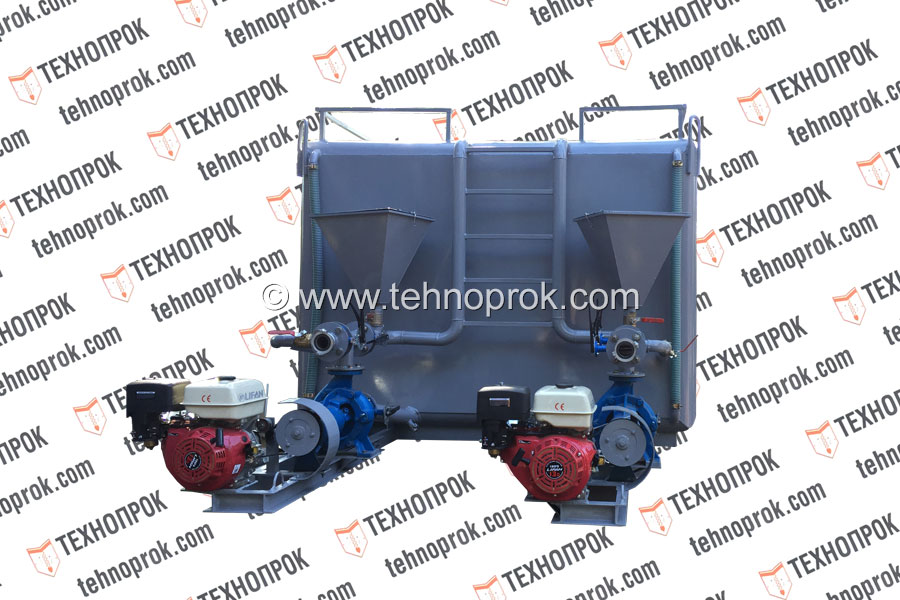 The Pumping and Mixing knot (PMK) is intended for hashing of drilling mud components. Such installation at drilling operations of horizontal directional drilling is used. This equipment mixes water, bentonite and water soluble polymers. Volumes of additives are calculated according to technology of preparation for specific geological conditions.
The mixing unit is made with a capacity from 2m3 to 15m3 with DVS from 13 p/a to 50 p/a.
The mixing unit consists of:
steel welded capacity volume;
hatch;
the removable filter of the arriving water,
installed in the hatch;
the accepting branch pipe with the fire connector of at. 80 mm, established on the hatch;
the bunker for bentonite falling asleep;
the transparent pipeline – a fluid level indicator;
steel pipelines;
spherical cranes;
latches at. 65 mm;
latches at. 80 mm;
drain crane 3⁄4";
ladders;
fuel tank of 25 l;
mounting frame;
output branch pipe with the fire connector of at. 80 mm;
removable centrifugal pump.
The centrifugal pump consists of centrifugal pump CM80-50-200a-2; DVS; the mechanism of the belt tension consisting from: tension roller; the lever of a roller, a bolt axis with a nut.
Special distinctive features of the mixing units made by JSC TEKHNOPROK are:
The CM pump installed on them intended especially for viscous liquids
Rotation from the engine on the pump is carried out through a belt drive which lowers pump turns that is important for transportation of viscous liquids, and also compensates vibration of the engine.
On a jellied branch pipe of NSU the removable filter of water with a cell 3mm is installed
Heating of a bottom of capacity of the mixing unit exhaust gases of the engine.
Mounting of a pumping and mixing knot
For competent mounting of the pumping mixing unit it is necessary to know the principle of its work. NSU at the same time carries out two main functions: mixer and pump. Installation carefully prepares mix, and the pump does a water intake of the reservoir and gives ready mix to hoses to nozzles of a boring head.
For start of NSU it is required to fill the reservoir with water. After that it is possible to start mix preparation. For this purpose it is necessary to open all cranes, except the bunker. NSU is started and smoothly the crane under the bunker opens. Further in the bunker bentonite is accurately filled. It is important that the reservoir with water has not been filled up to the end. The crane is closed, and mix is kneaded till 20 minutes. After that the engine is switched off and the sleeve for supply of ready solution is connected to an exhaust outlet. Other end of a sleeve needs to be attached to inlet opening of the pump. The sleeve should be fixed hermetically. Mounting is finished and the system is ready to drilling mud delivery.
How to adjust a pumping and mixing knot?
For competent setup of NSU and drilling mud delivery it is necessary to make predesign of the sizes of a well, to define necessary amount of solution (polimerov+bentonit), taking into account geology it is correct to pick up a compounding and timely to service the pump, mixers and a motor-pump.
Where to buy a pumping and mixing knot?
It is possible to buy a pumping and mixing knot for machines of horizontal directional drilling in our Tekhnoprok company. We offer high-quality installations with reservoirs of different volumes that will allow to implement construction problems of any orientation. Except quality our NSU differ in acceptable price.
NSU internal device
Also You might be interested in: