Pump-Mixing Systems (PMS)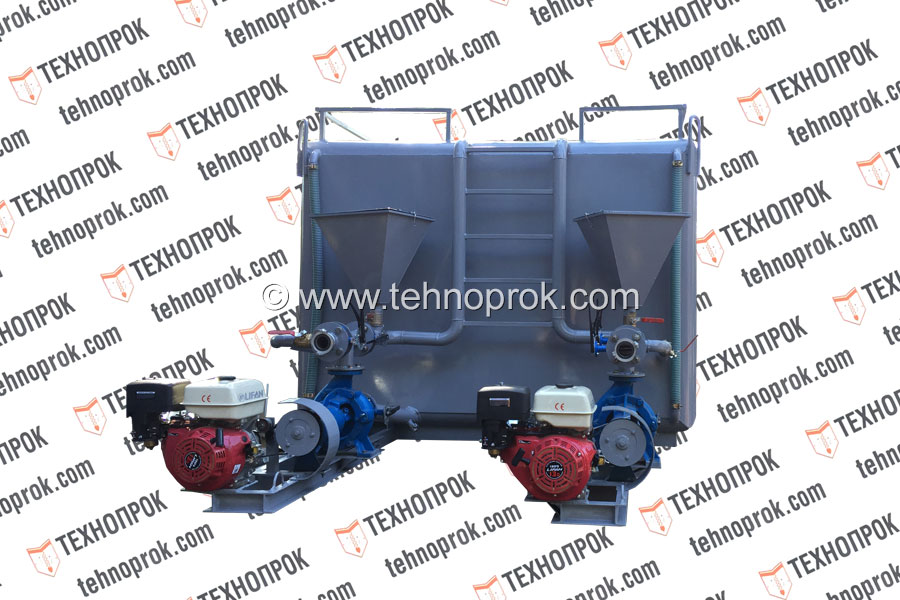 TECHNOPROK-61 LLC manufactures HDD pump-mixing systems (PMS) with steel tanks ranging in volume from 2 to 10 m3, both with single and dual tanks and pumping units. The distinctive features of our PMSs are:
Use of a CM type pump, designed for viscous liquids, capable of operating around the clock.
Our proprietary drive system compensates for vibration transmitted from the motor to the pump and reduces pump speed, which is important for the transmission of viscous liquids.
The PMS filling fixture is fitted with a 3 mm mesh water filter to prevent coarse debris from entering the tank during filling from natural water reservoirs.
Possibility to heat the liquid inside the tank using engine exhaust and a gas burner.
TECHNOPROK-61 LLC manufactures large mixing stations, for example, with a capacity of 10 m3 furnished with a 35hp diesel engine. For ease of transport and on-site installation, the PMS is designed as a single unit that fits easily into the vehicle body. All pumping elements and controls are located in the tank niche, and in the transport position they are enclosed with lattice doors. This also has anti-vandal value. Rotation to the pump is transferred from the MTZ diesel engine via the PTO shaft. The engine is highly reliable and maintainable. There are 2 outlet connections for pairing with another PMS. The engine speed can be controlled both from the engine compartment and while standing next to the bentonite hopper.
We can modify our HDD pump-mixing systems to suit your requirements, e.g. install an additional heater for heating the liquid inside the tank.
Also You might be interested in: